THE CD IS FINISHED!  
(Please see the May 2012 post below for the story behind the creation of the song The Veil of Tamar.)
Thanks to financial support from SaskMusic, in August 2014 I recorded my song The Veil of Tamar with Ross Nykiforuk (producer, arrangement, mix & keyboard harp) at his Cosmic Pad Studios along with Saskatoon musicians Randi Nelson (flute), Kim de Laforest (violin), Gent Laird (upright bass) & Carl Hofmeister (english horn).  Derek Bachman, Greenduplex Productions used his graphic art talent & a photo of my painting The Veil of Tamar to create the CD jacket. I am extremely proud of the finished project.  (Note: Derek passed away at the too young age of 38 in Dec 2014.  I miss you D.) 
In Dec 2014, Kathryn Dueck, owner of James Art Studio, did a beautiful job of framing my painting The Veil of Tamar as well as the CD jacket (plus CD & lyrics).  Both hang in my living room.  The artistic marriage of music & visual art.  
BONUS - The song made the semi-finals of the 2014 UK Songwriting Contest!  
Next up....marketing, marketing, marketing.  I am currently working with Inge to have the song play alongside her painting Tamar in a gallery in Hamburg, Germany.  
Lyn
May 23rd, 2012 Post......
In September 2011, I met Ingeburg Borowski, visual artist from Germany, at the University of Saskatchewan Emma Lake Kenderdine Campus Artist Retreat.  Inge's painting Tamar, a biblical character from Genesis in the Old Testament, moved me to research Tamar and write the song The Veil of Tamar.  On the last night of the retreat, I played the song for Inge and she surprised me with the gift of my own original painting of Tamar which I prompted named The Veil of Tamar. 
The Veil of Tamar by Ingeburg Borowski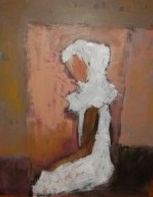 The Veil of Tamar Lyrics:
We are born innocent 
Abraham's children
Travelling so far from home
Once I was married, hopes of a family
Promises broken, I am alone
The veil of Tamar
I'll trade you all I have
The veil of Tamar x2
Barter for blessings
Enaim strangers
I hold your cord and your seal
Wages determined, names left unspoken
The veil on my face keeps my secret concealed        
          The veil of Tamar
          I'll trade you all I have
          The veil of Tamar x2
        I gave you my trust
Now I do what I must to survive
Time told the story
Condemned but redeemed
All is not what it seemed
The veil of Tamar
I'll trade you all I have 
The veil of Tamar x4
© Lyn Besse McGinnis 2011
Check out Inge's website to see her unique and amazing work ingeburgborowski.com
Lyn